How I Spend My Christmas Day?
How?
I spent my 2007 Christmas Day WORKING whole day in office! Yes I did!
Due to the nature of my current job, I had to go back to office and spent my whole day there. Of course, it feels like sh|t! Definitely you will feel sad when almost everyone of you friends, peers is either resting, relaxing at home watching TV, listening to musics, or shopping outside, or catching movies, and you are the only one left out. The feeling is really really bad. And I really did not feel like waking up and going for work in the morning. But I still did. I am a responsible guy. Since the roster is like that, I accepted it.
Of course, there are something good working on Christmas Day, or most public holidays. First of all, since I had no plan to go out, or any other activity for the day, and most likely I would spend the day at home playing computer games and surfing net, why don't I go to work and earn some OT? It makes sense to me. Furthermore, it is a public holiday for almost every country in APAC, which means most of my company's offices in APAC region would not be working, except those in China, Japan, Thailand. Less users, less problems, meaning? Less work for us to do. And best part is, basically all of those in my office would not be working except for those in our team. It means the office is OURS! I can bring along my laptop to office, play my games, surf my net, and at the same time, earn my OT!
Another thing bad working on PH is that not many makan places open for the day, so we got very little choice. Today, we resorted to…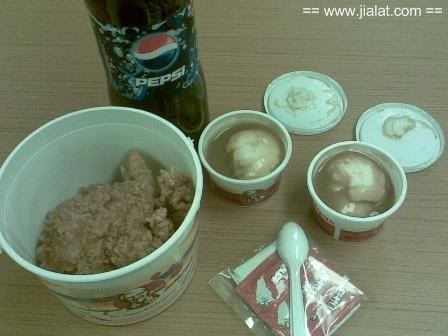 Sick of Mac, we chose KFC Buddy set.
OK, there is another hour before the end of this Christmas Day, just a song for you:

To learn about the latest watches, whether it is rolex watches you are interested in, or the fossil watches or even seiko watches, the best place to go is a fashion information site.
These are interesting as well: