UK Woman Ripped off Her Ex-Boyfriend's Testicle – Does Wanbao Do Research Before Posting Its "Interesting" Article?
I was reading Wanbao, and saw this piece of news with title "女郎求爱遭拒 扯下男友睾丸". The title means "Lady, rejected by boyfriend, pulled off his testicle". I taken down the photo of this news on paper: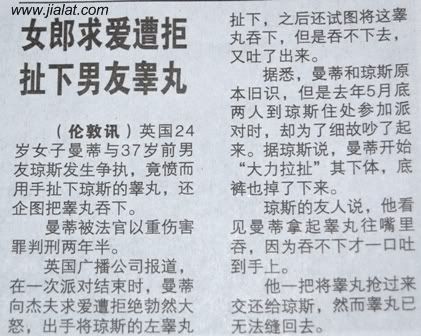 And I saw it listed on Zaobao.com also, link here: http://www.zaobao.com/special/newspapers/2008/01/lhwb080126a.shtml

Look at the date, it is "2008-01-26″.
Being kaypoh, I tried to do some research on internet, see if I can find the original source, or the news in English version or not. So I searched and searched and searched. Hey, I got it! It is here, on BBC somemore: http://news.bbc.co.uk/2/hi/uk_news/england/merseyside/4253849.stm
Woman jailed for testicle attack
A woman who ripped off her ex-boyfriend's testicle with her bare hands has been sent to prison.

Amanda Monti, 24, flew into a rage when Geoffrey Jones, 37, rejected her advances at the end of a house party, Liverpool Crown Court heard.

She pulled off his left testicle and tried to swallow it, before spitting it out. A friend handed it back to Mr Jones saying: "That's yours."

Monti admitted wounding and was jailed for two-and-a-half years.
But wait a minute, look at the date of that news on BBC. It is "10 February 2005". Today is? 26th Jan 2008. It is almost 3 years ago! Upon searching, I could see lots of similar or exactly the same news on many China websites. I guess, the editor or whoever responsible for this piece of news on Wanbao, was just copying and pasting it from the internet without even verifying its source, or if it is really "NEW".
A mistake? Or just being complacent?
These are interesting as well: