Grammy Awards winner Shakira in sex tape?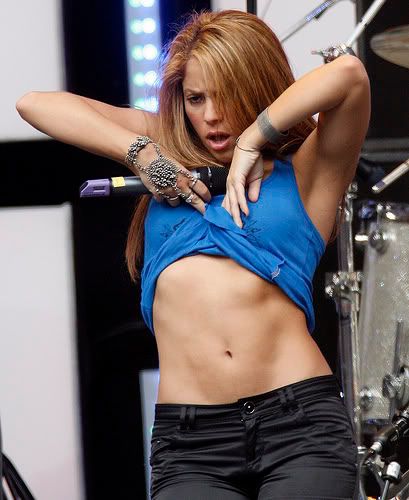 Shakira? The "Whenever, Wherever" Shakira? Serious?
Rumours started when Argentine DJ Javier Ceriani said in his radio show that "there's word of a private video taped in a yacht, which could involve Alejandro Sanz, Shakira and Antonio de la Rúa, but this material is in the prosecutors' hands". Antonio de la Rúa is Shakira's boyfriend while Alejandro Sanz is a Spanish pop star.
The "prosecutors" in the sentence is referring to he prosecutors evaluating the case against Carlos González and his wife, Sylvia Alzate, Sanz ex-employees who are accused of extortion against the artist.
Joint representatives of Shakira, Antonio and Alejandro has issued statement denying the existence of such tape. They insisted that: "This is a false rumour. This is totally absurd any way you look at it. There is no possibility that such a video exists. It is a baseless and malicious rumour.".
Well, whether this is just a bogus, or the sex tape really exists, we shall see in time to come. Meanwhile, let's continue "Whenever, Wherever"…
Shakira on Wikipedia
Shakira's Official Website
AOL Music: Alejandro Sanz, Shakira and boyfriend in sex tape scandal
Entertainment Wise: Shakira Sex Tape A Hoax
These are interesting as well: