Sex-in-uniform video on TNP, will police contact Jialat dot Com for assistance?
I am referring to my post on 26th March, titled "What action will McDonald take against Sex-In-McDonald-Uniform staff?". This piece of "news" has gone onto our local tabloid, TNP (dated 24 April, page 9), and the Chinese portal OMY.sg. No wonder when I checked my site statistics just now, I saw a surge of incoming traffics from search for "mcdonald sex", "uniform sex", ect.
In both TNP and OMY.sg reports, McDonald said they have lodged a police report. So I wonder, will police contact Jialat dot Com? Fortunately, I did not upload or distribute the clip or link, keke. Hope this won't get myself into trouble though.
Anyway, I think the photo on OMY.sg was taken from my post. They just look exactly the same. But too bad I can't prove it because I did not make any watermark or copyright claim on the original photo. As for the photo on TNP, I seriously think that they have PS-ed the screencap. From that angle, The McDelivery logo is darn freaking obvious, but they was none on the TNP photo.
By the way, you see, my post was dated 26th March. These local tabloids only published it today, 24th April. They are seriously WOLS… Please wake up! Be a responsible tabloid, act fast!
For guys who asked for links, too bad, too late if all the links in those forums are not valid now. This is the consequences of following the "mainstream" media, maybe?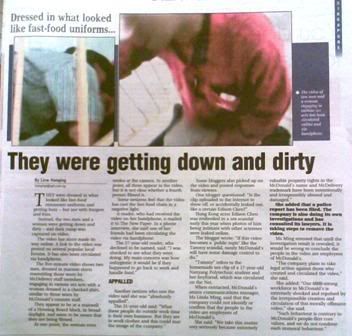 The logo is missing…… check out my post, the logo is so obvious.
These are interesting as well: