Molester Caught Red Handed By STOMPer?
OK, think I have to rephrase it. Molester Caught Red Handed By STOMPer On Camera Phone?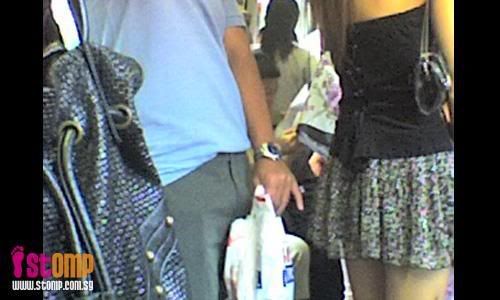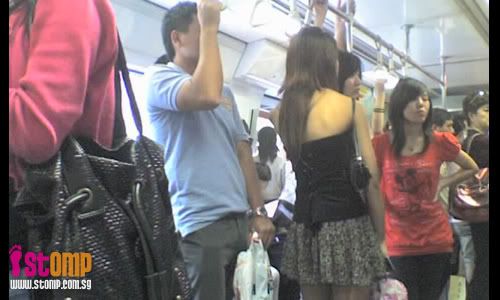 STOMPer Richard was on the train when he spotted this man apparently trying to molest a girl wearing a short skirt.

In an email to STOMP today (15 Sept), the STOMPer says:

"I was on the train with my family yesterday when I noticed this guy standing rather close to this girl. She was wearing a very short skirt.

"The guy, holding some bags in front of him, stuck out his last finger and took the opportunity to poke the girls bum. The girl initially thought it was an accident but the train was not very crowded.

"Finally, just before reaching Queenstown station, he must have poked too hard. This time, the girl stared at him and he immediately rushed out of the train."
To be honest, we can't see whether it is a genuine molest case from the photos. Maybe some can, but not me. However, I have something for STOMPer Richard. Richard, if it is a genuine molest case, why you never show your "righteousness", "braveness" on the spot by telling the guy straightaway? Why behaved like a theft, took the photos then posted on STOMP? What do you want to tell people then?
Typical STOMPer again.
These are interesting as well: