SMRT's Brilliant Reply To STOMPer
Hey hey hey guys, other than the "hanky panky students at playground", I also found something funny from STOMP today. First read the following:

A STOMPer was relieved he was not taking bus no. 61 when he saw that it would take 91 min to arrive.

"The bus notification board stated that it would be 91 min for bus no. 61 to arrive.

"It went from 95 min, to 93 min and then to 91 min when I snapped this picture.

"Luckily I was not waiting for this bus, if not I would have waited for so long."
Source
SMRT reacted, after 2 weeks. Read the reply to STOMP:
SMRT has reponded to a STOMPer's queries on a bus service, which, according to the digital timetable at the bus stop, was scheduled to take 91 minutes to arrive at the Clarke Quay station.

In their response, an SMRT spokesperson says:

"I refer to the STOMP post on the arrival time of Service 61 displayed at the bus stop outside Clarke Quay Station (3 September).

"Service 61 has an average frequency of between 7 and 11 minutes from 5.30am to 8.30am on weekdays.

"Based on the information provided and from our investigation, this photograph of the real-time bus arrival information display at the bus stop outside Clarke Quay Station was likely to have been taken at about 5am.

"The real-time bus arrival information then would show 91 minutes as Service 61 begins operation from Bukit Batok Interchange at 5.30am and would reach the bus stop outside Clarke Quay Station at about 6.30am.

We would appreciate if STOMP could share this with its audience."
Clarke Quay Station was not mentioned in the original post. Maybe the STOMPer did mention the location in his email, just that it wasn't included in the post. But it doesn't matter. What amuses me is, SMRT can come up with the conclusion that "the photo was likely taken at about 5am". They based it on the frequency, the traveling time taken for bus to reach Clarke Quay Station bus stop from its starting point. That's "logical". But, did they notice also, what other information is shown on the photo?
Let's see. The photo shows Bus 33, arriving in 13 minutes. OK, let's go to SBS Transit site. From there, it shows that 33 travels between Bedok Interchange and Kent Ridge Terrace Interchange. Starts from Kent Ridge, bus stop at Clarke Quay is at stage 16.5.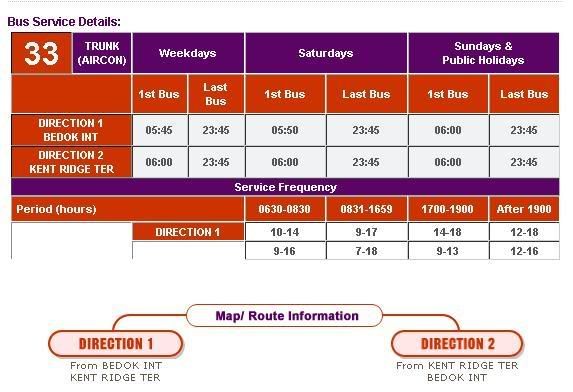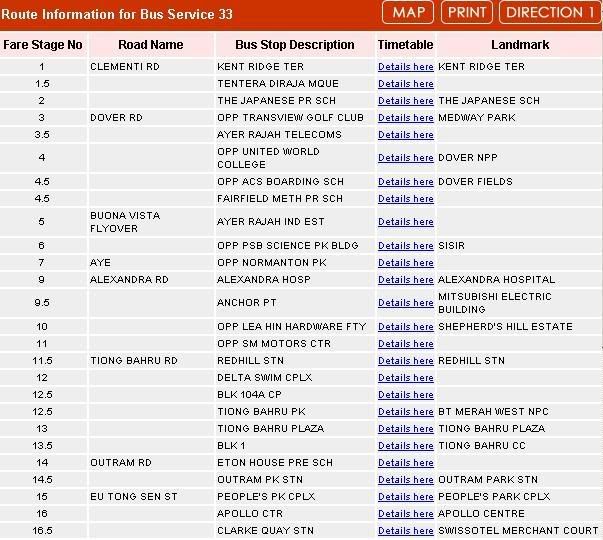 Using IRIS, I checked the travelling time from Kent Ridge to Clarke Quay.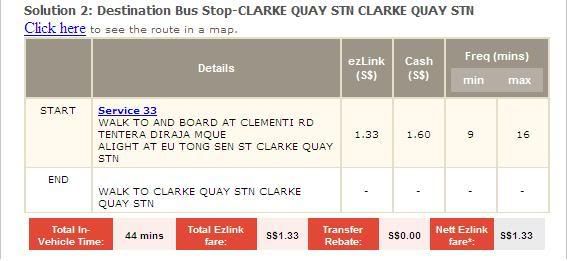 Bus 33 takes about 44 minutes to reach Clarke Quay. The photos shows that the bus would arrive in 13 minutes time, it means the bus left the interchange about 30 minutes before that. And it means what? Bus 33 left interchange at 430am? But what did SBS schedule show? The earliest bus is 545am, even on week days!
I seriously feel that the people are just anyhow bluffing, finding excuses, bull-shiting. And who is so free to wait for bus at 5am in the morning at CLARKE QUAY STATION? Just finish clubbing, take bus home is it?
These are interesting as well: