Singapore Cellphone User Sexually Harasses Johor DAP Wanita Leaders, Number Revealed
According to reports from Malaysia Insider and The Star, a few Johor DAP Wanita (women wing) leaders have been sexually harassed by a man by making calls to them. You can check out the following reports:
1. Three Johor DAP women sexually harassed
2. Stalker harassing three DAP women leaders
Both reports only mentioned that, it is a "international number", but never stated clearly which country the calls are from. I am not sure why so. However, the same incident was reported in details on China Press.com. What's more important is, China Press revealed the number, which is a Singapore mobile number. I'm not going to tell you the what the number is, but you can take a look the following screencapture: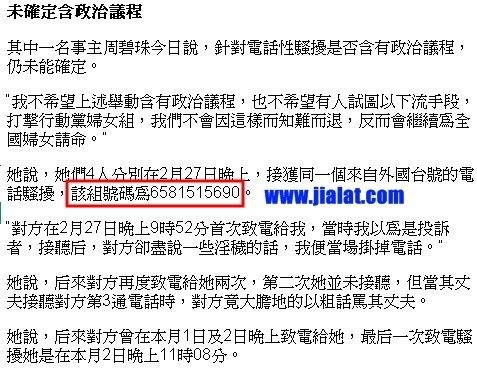 Saw the number? I don't anyhow cook up the news report, you guys can go to the original report from China Press, "撥電 短訊 纏火箭4姐妹 我們被性騷擾". I also have a PDF copy HERE. The report is in Traditional Chinese. In case you don't understand, it says the 4 DAP Wanita Johor leaders have repeatedly received calls and SMS from a man. Initially they thought the man wanted to complain, however, it turned out the man only said something stupid to them, such as "I want to make love to you", "I can talk to you and watch blue film at the same time, it makes me feel even greater since I don't know you", "Are you Ms Lim? Nevermind, it doesn't matter, I want to make love with you", "Do you want to have sex?", and "I'm Richard, where are you? I go and meet you". The victims lodged police reports, only were told by the police that such cases are very common, and it is very difficult for the authority to trace. Police even advised them not to pick up the calls if the man calls again. They believe that there are more than 1 person who have done that since the voices to each of them sounded different. Husband of one of them tried calling back to the number, there was no answer.
So, is the number listed in the report familiar to you?
These are interesting as well: