Ricky, You've Got Pwned!
This is something interesting I saw on STOMP, Rude property agent: Sends obscene SMS about client's mum, calls another an idiot. It is about a STOMPer Jason, and Tan complained about their bad experience with a property agent who send text message with vulgar language to him, calling him idiot. Please follow the link above you want to read more about it. I'm not going to repeat the story here because I'm not interested and it is not the point here.
The 2 photos of SMS Jason sended in were posted on STOMP as well, showing the agent's handphone number: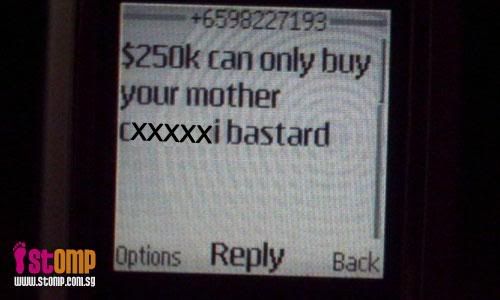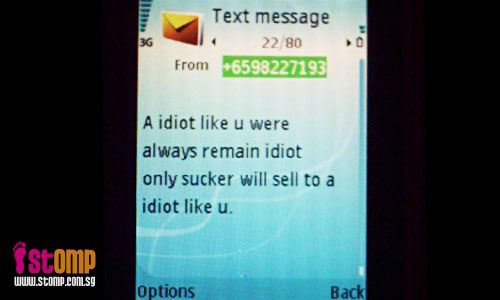 Being a kaypoh, I did a Google search on the number in the photos. Some of the results showed that the name of the agent using this mobile number is "Ricky" (actually someone did so and commented in the STOMP post). But what caught my attention is this very 1st search result:

The link led me to nowhere. But I did another search on the same number in Adpost SG. See what I found? There are 2 interesting listings. Click to enlarge.


The 1st listing is as following: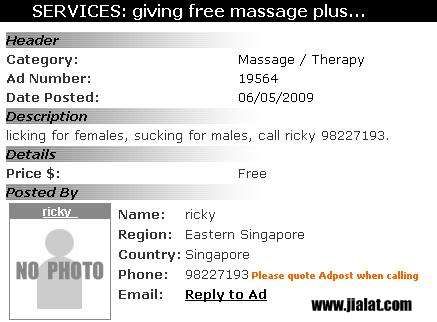 SERVICES: giving free massage plus…
Second one;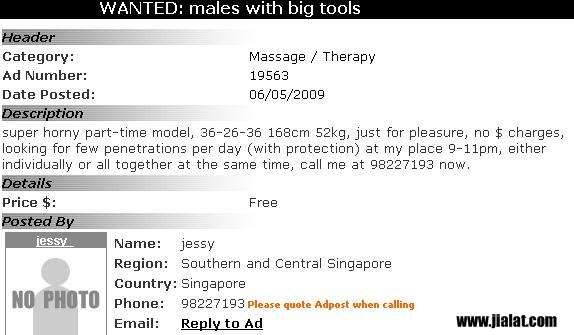 WANTED: males with big tools
"licking for females, sucking for males", "super horny part-time model, 36-26-36 168cm 52kg, just for pleasure, no $ charges, looking for few penetrations per day (with protection) at my place 9-11pm, either individually or all together at the same time", very happening right?
Both listings were posted on the 5th of June. Well, what do you guys think about this? It could be, "Ricky" is a happening soul who offering his "free service" online, at the same time a certain "Jessy" borrowed his mobile number seeking men to feed her hunger for sex online as well. Or, can it be a sabotage case. I'm not trying to make any conclusion here, just showing what I have found.
So, what say you?
These are interesting as well: