[ADV] Cavitation, What Is That?
Cavitation, the latest term I learned recently. If you also don't know what cavitation means, it is not your fault.
The story goes like this. Gf always feel that she is fat, ALWAYS, ALL THE TIME, even though I have assured her thousands over times that she is not fat at all. She just doesn't believe it. So recently, she asked me to accompany her to visit a slimming centre in town, Cenosis.
To be honest, I have always been skeptical about slimming centres in the market. You see, how is it possible that any Tom, Dick and Harry can become a "health consultant", talking to you about slimming, healthy diet, etc when they are not even trained in bio, health science? Also, all the advertisement with amazing results on newspaper, TV doesn't help at all. If they are so effective, we won't see fat people on the street already, right? Or why MINDEF doesn't engage them to take part in BMT progammes to help all the fat, obesed, overweight recruits? They like to advertise their "new technologies", but I doubt the general public can understand even 10% about those. Even myself, a graduate from science stream, find it hard to comprehend what the advertisements are trying to tell. In lay man's term, catch no ball. One thing for sure is that there is no board of governance in this industry; therefore some unethical companies could play around with misleading information.
I was reluctant to go initially. But, in order not to spoil GF's mood, I did accompany her. The experience was surprisingly good. The people over at Cenosis are rather professional. They explained the process to us, not hard selling at all. The ambience there is good, relaxing and comfortable. They focused on their latest technology, cavitation, which was the reason of our trip there. Cavitation makes use of bursting micro bubbles to break down fat cells membrane. As a result, complex fatty acids are broken down into simple fatty acids, and then passed out through normal excretion. Cavitation manages to help in body weight loss, reduce fat tissues and most importantly, there is no collateral effect. I'm rather concerned about the safety of this kind of latest technology. The consultants there assured us that Cenosis is the only slimming company to own this in Singapore, and they exercise very high level of self governance in order to gain trusts of their customers. Firstly, they follow the regulations strictly that only doctors and physiotherapists who are medically trained (which they already have) can administer the treatment. Secondly, N2 license from NEA is granted in order to operate the equipment (of cause, they applied for it). We were also warned of imitation of Cavitation outside. Those imitations will not work as well and efficiently as the REAL Cavitation owned by Cenosis. Remember the theory of Cavitation I mentioned early? Imitation is not powerful enough to penetrate fat cells membrane. That's why the inefficiency. It other words, waste of money.
We were rather convinced by Cavitation though we didn't make any decision on the spot. The consultants were kind enough to slowly guide us through the explanation, not pushy for sales. I kind of enjoy the environment of Cenosis studio. I saw Jacuzzi, steam bath, sauna for all customers, and the treatment chairs with personal remote control (to control neck rest, head rest and foot rest) are very comfortable. The ambience in treatment room is fantastic with excellent lighting for us to relax. The standalone sound system in the room even allows us to play our own favourite CD.
Overall, it is a very nice experience for GF and me. We are convinced of the result that Cavitation will bring. To know more about Cavitation, or experience the service provided by Cenosis personnel, pop by any Cenosis studios nearest to you now.
"Hey, do support our fellow Nuffnang blogger, Winnie at her attempt on the Cenosis Glass House Challenge 2009!"
Cenosis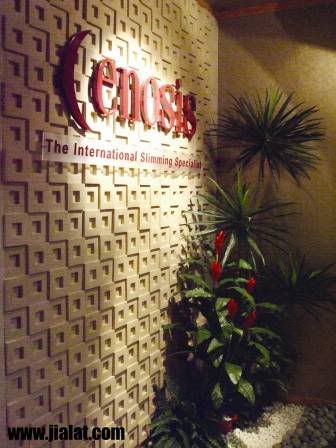 One of their jacuzzi rooms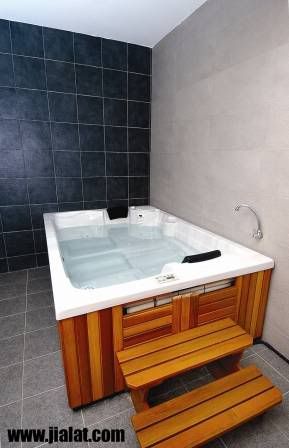 These are interesting as well: