H1N1 Mask Used As Bra And Pantie (NSFW)
This is actually a protest staged by FEMEN in Ukraine.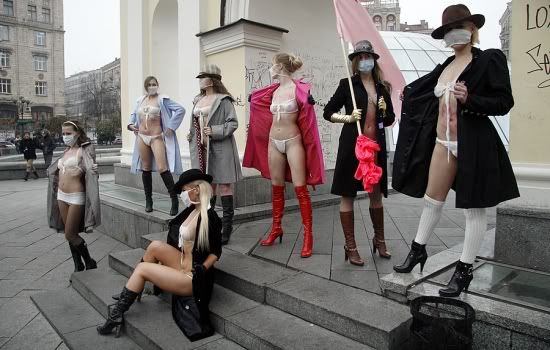 Photo 1
Photo 2
Photo 3
Photo 4
Photo 5
Photo 6
Photo 7
Photo 8
Photo 9
Photo 10
Photo 11
Photo 12
Photo 13
Photo 14
Activists from the Ukrainian women's movement FEMEN kiss and wear underwear made from protective masks during a protest on Independence Square in Kyiv on Nov. 9. FEMEN activists protested that the swine flu or A/H1N1 epidemic, is being used by politicians to create fear among the population ahead of the Jan. 17 presidential election.
These are interesting as well: